15 OF THE INDIVIDUAL GRAZING BOX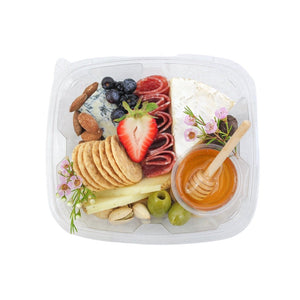 Individual Grazing Boxes are single small size grazing boxes.  Our Individual Grazing Boxes are ideal for corporate gifts to clients, virtual wine and cheese pairings, social distance gathering such as weddings, baby showers, and holiday parties! 
*Minimum of 15 Boxes
Individual Grazing Boxes:

Two Artisan Cheeses

One Cured Meat

Fruit

Nuts

Gluten-Free Crackers

And Spread
ABOUT GRAZING KITCHEN
Grazing Kitchen provides modern grazing boxes that promote unique and positive social experiences through food. We use high-quality meats, cheese, and ingredients for our grazing boxes because we believe in quality food, and modern charcuterie ability to create quality experiences that leave lasting impressions and memories with friends and loved ones.
*We take food safety and enjoyment seriously. Boxes and Boards are made to order to ensure the quality and freshness of our ingredients used and all food is prepared while wearing masks and gloves. 
DELIVERY
Please keep in mind when choosing a delivery time that we deliver to South Orange County & North San Diego (South of the 55 FWY) between 11 AM - 2 PM. We deliver to North Orange County (North of the 55 FWY) between 2 PM - 5 PM.

Want more than 150+ Boxes? Give us a call today so we can best accommodate you!